Elastic Crepe Bandage with Clips Wholesale Manufacturers | KENJOY
Detail
Company
Clients Say
Product Tags
An elastic bandage is a "stretchable bandage used to create localized pressure".Elastic bandages are commonly used to treat muscle sprains and strains by reducing the flow of blood to a particular area by the application of even stable pressure which can restrict swelling at the place of injury.
Elastic bandages are also used to treat bone fractures. Padding is applied to the fractured limb, then a splint (usual plaster) is applied. The elastic bandage is then applied to hold the splint in place and to protect it. This is a common technique for fractures which may swell, which would cause a cast to function improperly.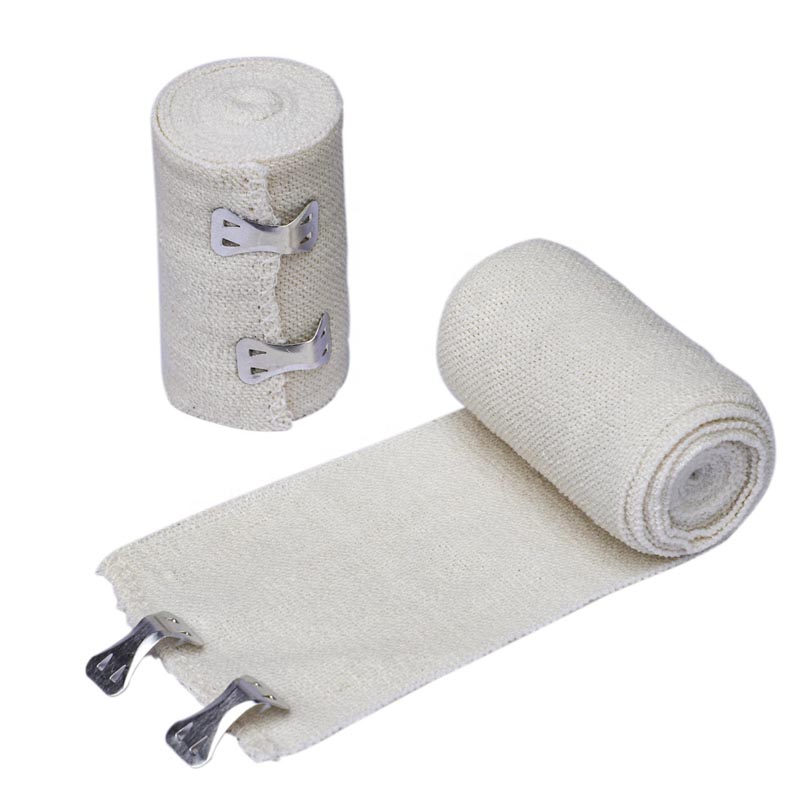 Composition

Cotton,Spandex

Normal Size

Width:7.5cm-15cm,Length:450cm or customized

Color

Skin color,green,blue,orange,yellow,white,black,red,lake green,pink,purple or customized

Package

Independent OPP sealed packaging

OEM&ODM

support

Advantage

1、Contains 90% top quality cotton,Soft and comfortable

2、Improved shelf life to 5 years shelf life with sealed package

3、Suitable for both human and vet care.

4、100% more Absorption efficiency, 58.6% more Breathability, 32% softer, great for sensitive skin

5、10% elastic fiber for 180% and 200% elasticity, stretch out until 14-15 Feet, can be used as compression bandage

6、16 years experience and Manufactured in CE ISO9001 ISO13485 certified Facility, supply directly

How to use

Innovative clip snaps in place, holds securely and is easily adjusted

Provides moderate support to weak, sore muscles and joints
1、Soft feel is comfortable against your skin
2、Wash and reuse again and again
3、Bandages Wrap Made from 80% soft cotton, 15% spandex, 5% polyester.
4、Includes 2 elastic clips. Innovative clip snaps in place hold securely and are easily adjusted
5、It restores elasticity and as a result bandage can be used again and again.
6、Does not hamper muscular and joint flexibility.
7、Better Elasticity, controlled, uniform & smooth pressure.
8、This body elastic wrap bandage specially designed Hook Closures for firm support.
9、It has a Woven fast edges.
10、Individually sealed.
What are elastic crepe bandages used for?
Suitable for keeping gauze in place, stemming bleeding, and providing light compression. The heavy-weight crepe bandage is suitable for use as support for sprains and strains in joints and muscles. It also works as a moderate compression bandage for knee swelling, ankle swelling, and other relevant injuries.
What is the difference between a crepe bandage and an elastic bandage?
A lightweight cotton bandage is used to hold a dressing in place, whereas a crepe or elasticized crepe bandage is used for applying support or firm pressure to a soft tissue injury.
What is the use of a crepe bandage?
Crepe bandage is the most versatile bandage out there. From doing partial immobilization for any sprain or strain to temporary bandaging for fractures till the time plaster cast can be applied, it's the crepe that solves the problem. Sometimes, when the wound is bleeding heavily we pack it and use a crepe bandage to ensure decent compression at the bleeding site. It's also used as a support for joints weakened by repeated sprain and strains. If you ever make a first aid kit, pls pack 1/3 of total roller bandages as crepe, you'll be amazed to see how well it works when applied correctly.
Should we wear a crepe bandage while sleeping?
Please remove compression bandages at night while sleeping. for best results. As swelling reduces it may be necessary to adjust the compression bandage. Consistent elevation will accelerate the healing process.
---
---
Write your message here and send it to us